Comfort For You, Security For Your Instrument.
You have invested carefully in a fine guitar. It deserves the best in a strap. Hand-Made from premium harness leather. Built to last for decades, to reliably support your treasured instrument, and to evenly distribute its weight like a trusted friend's hand on your shoulder.
Order Here
The Seventh String Classic
"I played my Les Paul for a while this morning with your strap, then switched to one of my Music Man guitars which is about 1/2-3/4 of the LP weight, and it was crazy how much heavier it felt with a traditional nylon strap!"
"Hi Mike, Just an email to say I received your straps yesterday here in Geelong Australia. I'm delighted with them, I've been looking for something like them for ages and love the quality. I can't wait to display them at the next gig. So it is with pleasure I have ordered another strap, a Retro Vintage Acoustic for my National Reso. Keep up the great work."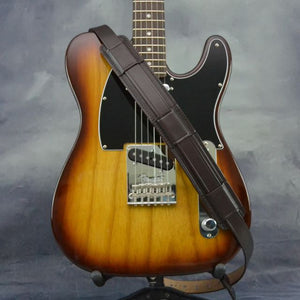 The Retro
Sale price Price $ 169.00 Regular price Unit price / per